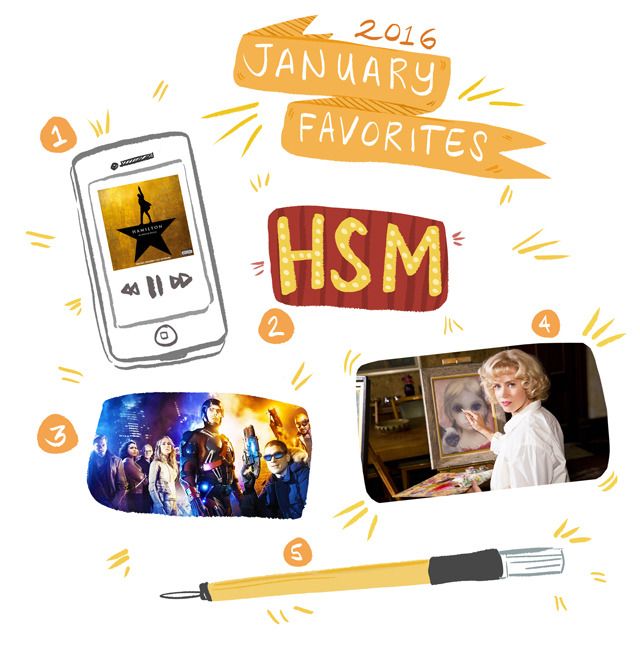 Oh gosh, the first month of 2016 is done. What?! WHAT?! Well then, I guess it's time for another of my monthly favorites.
Hamilton // Dude, I can't even explain how much GENIUS went into this musical. It's a musical that's all about the American Founding Father, Alexander Hamilton. But then, it's not just a musical. It's a freaking HIP-HOP MUSICAL. So can you imagine? People in costumes from the 1700s freaking rapping? Safe to say, Hamilton is pretty much the only thing I've been listening to. I should be saying more about it but, you just HAVE to listen to it to understand how amazing it is. (Also, I really love the cast and their Ham4Ham shows, but that would take up too much of this post………)
High School Musical's 10th Anniversary // I just had to include this in my favorites because High School Musical was one of my biggest obsessions growing up. It's pretty insane how it's now 10 years old! I even remember not being allowed to watch it the first time because DCOM movies would show on Sundays at 8 PM, and I had school the next day. Oh the good ol' days!
DC's Legends of Tomorrow //  I CAN'T BELIEVE IT'S FINALLY HERE! I've been looking forward to this show ever since DC announced it. Arrow and The Flash are two of my absolute favorite shows right now, and having a DC TV show that features a whole team is a big YES for me.
Big Eyes // This was showing on tv last Sunday and I completely fell in love. The film, directed by the amazing Tim Burton, is about painter Margaret Keane. I wasn't familiar with who she was, but while watching the film, I did recognize her paintings. She's known for painting portraits of waifs with big eyes. The movie follows the story of Margaret and her husband, Walter, who took credit for her paintings in the 1950s and 1960s. (Bro, really?!) It was such an interesting film and there is nothing more satisfying than all the shots of Margaret's art studio with all the paint and paintbrushes.
Kuretake Bimoji //  My current favorite pens to use! The ink is nice and dark, and it doesn't bleed through my sketchbook! Plus, the tip has a nice firmness to it, so it's easy to create variations between thick and thin lines.
What's something that you've loved this month? Do share them with me! Is it also Hamilton? Are you a Hamilfan? If yes, we are automatically friends.