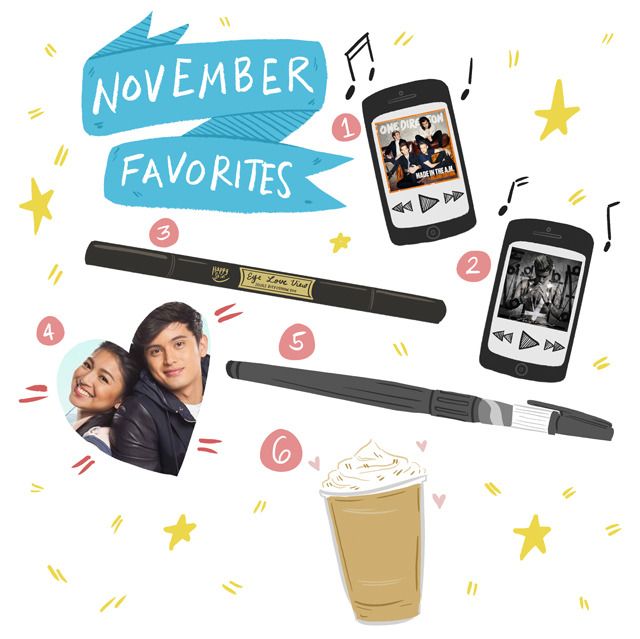 Hello! It's the first day of December today, so I decided to do a Favorites post about the stuff I've been loving last November! (The last time I did this was April. Heh, bringing it back!)
Made In the AM by One Direction // GUYS. THIS ALBUM. Pretty much all I've been listening to recently. I'm just loving the new sound and ugh, the songs are so well-written! It has such a vintage vibe to it, if I do say so myself. History and Olivia are probably my fave tracks off the album!
Purpose by Justin Bieber // GUYS. THIS ALBUM AS WELL. Honestly, I never thought I'd go back to being a Belieber again. And you can't deny it (can anybody deny it though), all his recent songs have been super catchy. You win, Justin. I'm a Belieber once more.
Happy Skin Eye Love View Double Duty Eyebrow Duo // I'm 17 and I'm clueless about makeup. The only thing I actually have confidence in is winged liner. Recently, I've started working on my brows and Happy Skin's eyebrow pen is my absolute favorite thing to use! It has a very natural shade and it lasts the entire day! Happy Skin is one of my favorite makeup brands cause it isn't too harsh on my skin (my skin is quite choosy with the makeup I use) and their stuff are great on Filipino skin! Go Pinoy!
On The Wings of Love // If you follow me on Twitter and on Instagram, you WILL KNOW that this show has taken over my nights and that I am without a doubt, a certified OTWOLista. I just love how the writing isn't like your typical teleserye! I also love that aside from of course, the Cleah moments, the show's supporting characters also have their own moments in the spotlight! *sigh* The amount of love for this show is unreal.
Zig Brush Pen No. 22 // Yooooo, this pen is the most beautiful pen to ink with! The ink is suuuuper black, and it flows beautifully. Plus, it has a great consistency as well! The brush tip also has a great feel to it. The best part? IT'S REFILLABLE!
Iced Toffee Nut Latte // With Christmas just around the corner, Starbuck's Toffee Nut latte is always something to look forward to. I get it iced though, with Manila's November weather deciding to dress up as summer weather. (Why, Manila weather. WHY?!)
Two other amazing things that happened last November are:
I reached 1,000 followers on Instagram! Thank you to all the people who actually find my internet shenanigans interesting. More shenanigans to come. Definitely.
Candy Magazine feature! A friend messaged me that Candy included me in their list of 7 Young Artists You Should Follow On Instagram Right Now! This is the first time I've ever been featured in a list thingo of sorts, and I'm super blessed and humbled to be amongst 6 other INSANELY talented artists! WOOO ART KIDS TAKING OVER THE WORLD!
So I'd like to end this post with a huge THANK YOU. You all are amazing and I will continue to create more art to make you Interfolk happy!