A couple of you have been asking me about the art materials I use for my artworks, and although I'm always more than willing to share and answer the questions you've got for me, I thought it would save a whole lot of time if I just made a whole list of the thingamabobs I use for my art! With that, here are my weapons of mass creation!
I was originally going to make one BIG post, but after taking photos of my materials, I realized that I am a total hoarder and that the post was going to be way too long.  (I need some serious help!) So, I decided to make this into a little series instead! Part One would be PAINT + BRUSH + PAPER and Part Two is going to be SKETCH + INK + PEN. Woohoo, this is going to be fun! Now, ON TO THE MATERIALS!
---
WATERCOLORS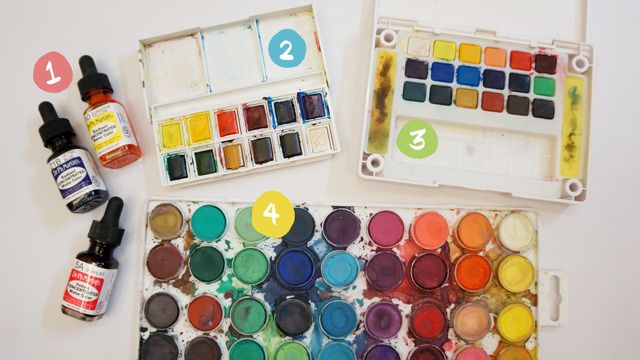 Read More
Before all of this, I used to use Prang a LOT, but then I got really frustrated every single time the ants would come and feast on my paint. (Really though, the paint smells super sweet…) However, I still recommend it to those who want to give watercolor a try! If you're just starting with the medium, my number 1 tip is to start with the cheapest thing. Better to mess around with cheap watercolors rather than spending your allowance on super expensive paint! I mean, what if you end up not liking the medium? The horror!!!
Anyway, these are the current watercolor paints I'm using. I'm usually the type to stick to one palette, finish it, then move on to another, but sometimes I just mix what ever I have. Haha! I quite prefer pan sets over tubes because it has a more watercolor feel to it, if you get what I mean? Also, it's easier to bring around.
Oh, and another thing, most of the paints (and by most, I mean 3/4 of them. HA!)  I have come from workshops I've joined, but I'll be sharing where you can purchase them as well! (I'm not good with remembering prices though………which is bad.)
So first up on the left, I have the Dr Ph Martins Radiant Concentrated Watercolors. If you're really particular with mixing colors and such, these are pretty fun. The color is SUPER vibrant as well, so I tend to water it down instead of using it as it is.
Next, I have my Winsor & Newton Cotman palette! This, by far, is my favorite out of all the paint sets I've tried. This palette is tiny but mighty. The colors are super pigmented and you can just put this in your bag without any worries. I haven't used it as much as I'd like because to be honest, I'm still quite scared of it. Haha! I do use it though for more final artworks. (What even was that term. More final? Whut.)
Up next is my Sakura Koi set. This is another good brand to start with! The colors are super pigmented as well, and they last a really long time! Plus, it comes with a waterbrush, which I personally love to use for watercolor lettering.
Lastly, here are my Loew Cornell Simply Art watercolor cakes. (I honestly didn't know what it was called for the longest time cause when I opened it, I peeled off the label.) I've been using this set for my recent stuff, and mostly for practice work. It actually came with my art books for homeschooling, so I'm not sure where you can buy it here. (I think it's pretty similar to the Simbalion palette though?) I think it's alright, but the only thing I don't like about it is that it tends to be quite chalky when the paint dries? But anyway, it's a pretty decent palette for practice work!
I also have the coolest thing ever aka Peerless Watercolors! If you're not familiar with these, they're literally just pieces of paper that happen to BE watercolors? They're way too cool and super easy to bring around cause you just cut 'em up, make a little folio for them, and you're good to go!
---
GOUACHE
Read More
I looooooooooooooooove gouache. If you don't know what gouache is, it's basically watercolor with MORE pigment in it. Basically it's opaque watercolor. I love gouache so much cause you get to layer the paint, and unlike acrylic paint, it dries to a matte texture.
In my current supply, I use Pebeo, Reeves, and Turner Acryl Gouache. Pebeo's consistency has got to be my favorite. I love how smooth it is compared to the other two. Turner, however, has the prettiest colors ever. The only thing that bothers me is that it tends to leave a grainy texture when it dries.
---
BRUSHES
Read More
We have reached the segment that confirms how much of a hoarder I am. To be honest, I only use around 6 of these brushes. I can't help it! I love paint brushes! (Oh goodness, I have a problem.) However, brushes are the one thing I am willing to spend on. I'd rather have a good quality brush that lasts a long time, rather than one that leaves hair on my paintings. (Ugh pet peeeeeeeeve!)
When it comes to brushes, I much prefer the round ones. I do own quite a few flat brushes, but when creating backgrounds/washes, I still end up using the round ones. I also prefer synthetic bristles over natural-haired ones? (Is that what they're called?) I find it so much easier to control the water with synthetic bristles and I also like the springiness it has.
Friendly tip! When brush shopping, run a finger through the bristles. If they stay put and don't morph into a weird shape, you've got yourself a good brush!
These six brushes are the ones I use the most for my paintings. As you can see, I'm a big fan of the super teeny tiny brushes, as I love adding details to my paintings.
---
PAPER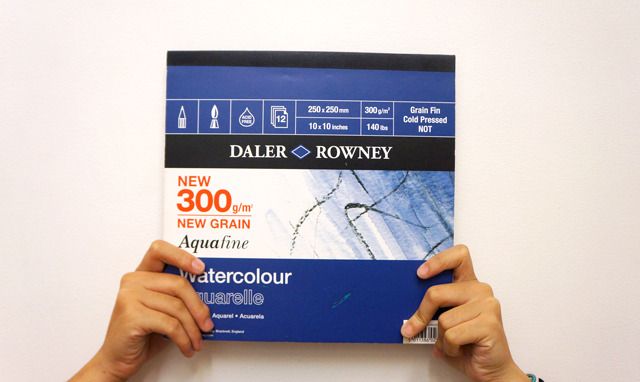 Read More
I'm still at that stage where I haven't found my perfect paper yet. I'm not even sure if I'm more of a hot-pressed or cold-pressed type of person. But anyway, I'm currently experimenting with these three brands: Daler Rowney, Canson, and Kami.
I usually use Daler Rowney for actual work that I plan & SHOULD finish. (Now watch me WIP…..now watch me never finish this artwork) I have the 10 in x 10 in pad along with the 8 in x 16 in pad. (I thought I'd use it for landscape paintings but lol, I still end up cutting the paper so I can use it for portraits.)
I use my Canson pad for mostly practice & lettering work. I used to buy the pads a lot, but lately I've just been buying the packs of 10 . When I need to do an actual artwork and I don't want to use my expensive paper, I just use the Canson paper and stretch them on a flat piece of wood so it doesn't buckle (when the paper gets super wavy when wet) when I start painting.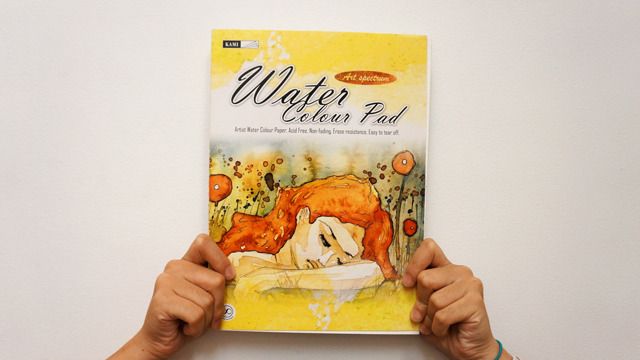 I found this Kami watercolor pad in National Bookstore one time and I never found it again. It's actually sealed on three sides so I don't have to stretch it when I paint. (Kind of like a watercolor block!) I was surprised cause it's actually pretty decent to paint on! I use it for mostly practice illustrations. If I find this again somewhere, I'll let you guys know!
---
WHERE TO BUY
Like I said earlier, most of the paint sets I got come from workshops I've joined. But do not fret! Here's where you can get a set of your own!
There are so many stores here on the interwebs that sell a whole treasure trove of materials! Here's where I get some of my stuff:
Read More
As for stores in the real world itself:
National Bookstore (where you will literally find everything…..well, at least most of your basic art materials! But haha, I usually buy my paint brushes here! Watch out for the Princeton brushes! I heard they brought back Sakura Koi watercolors as well!)
Fully Booked Greenbelt 5 (The Greenbelt branch has the BEST selection for art materials. They have a ton of watercolor pads + brushes! This is where you can get Daler Rowney brushes and Winsor & Newton watercolors!)
Deovir (I usually go to the branch in SM Megamall. So much brushes & other art materials to choose from! This is also where I buy gum tape for when I stretch my watercolor paper.)
---
So that's it for Part One! I hope it gave you a heads up on what stuff I like to use! Comment below what art materials YOU'RE currently loving? I love hearing about what other artists use!
Stay tuned for Part Two of my Ready For Battle series! I'll be sharing with you my SKETCH + INK + PEN collection!
P.S. I'd like to thank my sister Kayla for being my hand model. Go tweet her something cool.