Hey guys! Today's post is Part 2 of my Weapons of Mass Creation series! I'll be sharing with you guys what I use for everyday sketching and what I use for inking those sketches! If you're interested in what I use for my paintings, you can check out this post.
Just a little note, this post won't be as long & detailed as my watercolor post, since I just typically use pretty much anything for sketching and everyday drawing. Haha!
---
SKETCHBOOK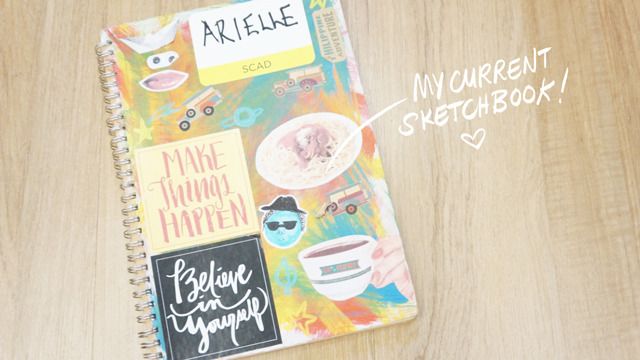 Read More
This is the current sketchbook I'm using. I got it at Daiso for 85 bucks. This is proof that sketchbooks don't have to be super expensive! Normally I just go notebook hunting and if I find a blank paged notebook, it's automatically a sketchbook to me. I just make sure the paper is good enough to handle markers / ink / watercolor (sometimes I'm too lazy to use my watercolor pads, heh.)
---
PENCILS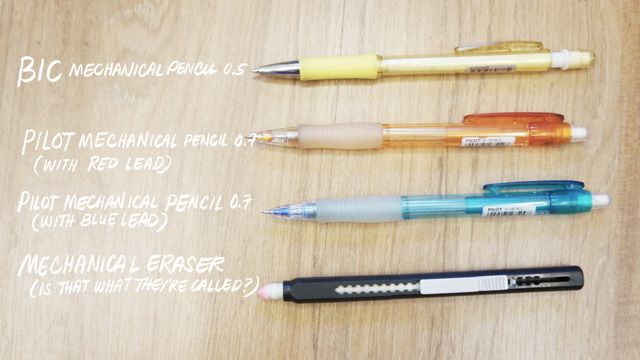 Read More
Mechanical pencils are my best friend. I hoard them a LOT, believe me. These are just the 3 I'm using. I have your standard .5 mechanical pencil, which is also good for just plain ol' writing. I've also been using colored lead lately! I use the Pilot Color-Eno leads mainly in red and blue! I don't know WHY we use colored lead, but for me, it just lets me keep my sketches lose. After using colored lead, I'll typically add the details with the regular lead or go straight to inking.
I also have this mechanical eraser tool. Are those even what they're called? I think I just got this one from my mom (lol) but it really helps me erase those tiny tiny mistakes without erasing a whole chunk of my sketch! If your drawings are very detail oriented, like mine, you should definitely get one of these!
---
INK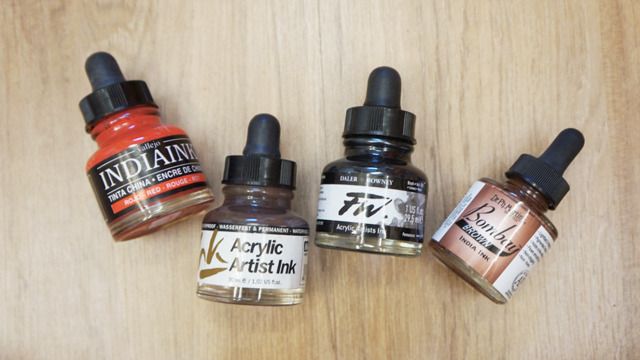 Read More
I started experimenting more with ink last year when I did Inktober! I used to just use black watercolor to line my drawings, but after trying to ink my drawings with my calligraphy pens and black india ink, I decided to play around with it even more. India ink is great for starters, but I quite like the consistency of acrylic Ink! It's nice and thick and you can still water it down if you want lighter tones. Black ink is definitely my favorite, but I quite enjoy using sepia as well. I also tend to mix my red and brown india ink (India ink is a lot thinner than acrylic ink so it's a great starter ink to use, either for drawing or calligraphy!) to create a deeper shade of red. (I love mixing my own colors and I suggest you do it as well, instead of working straight from the bottle!)
---
PENS
Read More
Aside from my pencils, here are the usual pens I take with me wherever I go. I'm a big fan of the Unipin Fine Line pens and my usuals I get are .05, .3, and .8. I also bring around a Sakura Brush pen for quick sketching + details. Recently, I've been absolutely looooooooving the Kuretake Bimoji pens. They have a really nice grip to them and they're such a breeze to use! I'm loving the brush tip they have as it's an ACTUAL brush, along with the medium felt tip. It's got a nice stiffness to it and I can easily create a nice variation of thin and thick lines when inking my sketches! Another favorite is the Zig No. 22 brush pen. I mentioned this in my November Favorites post right here. It's got a nice ink flow, plus it's refillable! Another great inking tool!
---
WHERE TO BUY
A lot of the online stores have quite the selection of pens & inks to choose from! Here are some of my favorites:
And of course, we have the places you can actually go to to touch and stroke hold the sketchbooks and pens:
National Bookstore – Luckily enough, you can now find Zig Kuretake pens here! If you're lucky, you can also find GOOD sketchbooks.
Daiso – FOR YOUR CHEAP SKETCHBOOKS. Never underestimate this store.
Deovir – They have a nice selection of acrylic inks to choose from!
Fully Booked – If you're on the hunt for sketchbooks with nicer paper, Fully Booked usually has a nice selection! I quite like the Monologue sketchbooks, so check those out!
Scribe – Lots and lots of pens. Enter this store with caution. (Kidding! Knock yourselves out. Haha!)
---
So that's it for my weapons of mass creation series! But please do remember, it's not all about the materials you use. Start out cheap, draw, make a lot of mistakes, learn, create better artwork. After you create better artwork, that's when you can try upgrading your stuff!
I hope you guys liked this mini-series of mine! If you've got any questions, just comment below or contact me on Instagram or whatever! I'm always willing to answer your questions!